Hollinside Academy
GATESHEAD MAYOR (COUNCILLOR ALLISON THOMPSON OPENS NEW SPORT ENGLAND FUNDED HOLLINSIDE GOLF ACADEMY AT WHICKHAM GOLF CLUB.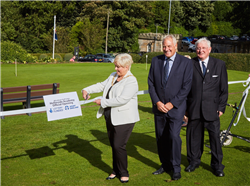 Whickham now has a first class coaching and practice facility achieved with a grant of £75,000 from Sport England's Inspired Facility Funding.

The new facilities have created the means to provide golf all year around. Even when the course is covered in snow. We will be able to use the GC2 Simulator for competition, practice and coaching.

The covered driving bays and short game area have added extra benefits and value to membership.

We have created a low cost entry level Academy Membership for anyone who wants to use the facilities. At only £25 per annum including social membership it represents an excellent opportunity to try golf before taking full membership.

What we have here has provided value for money golf and underlines our slogan…

A Great Deal for Great Golf in a Great Place!