Whickham Sponsors Day Competition
Sponsors Shield, 2 from 3 Stableford, Sunday 30th September 2018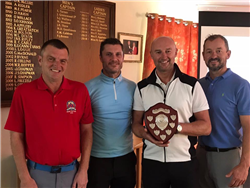 Winners and defending Champions Hadrian Healthcare Group represented by Les Frizzell, Danny Hughff and Peter Hailes with 87pts. (Pictured with Men's Captain John Brown).

In second place with 83pts were Lloyd's Team - Simon Holmes, Glen McVitie and Darren Butler.

The third team with 80pts were Rosebirch Team - David Robison, Colin Teasdale and Harry Iveson.

Thanks to all of our Sponsors your support is important to the Club and we hope this day goes some way to show our gratitude. We trust you've enjoyed your day and thanks to Heineken UK no one left empty-handed.

Thanks to all of our Sponsors for their Support